1.

Introduction¶

Welcome to the OzRunways Dashboard User Guide

The OzRunways Dashboard is the latest offering from OzRunways to commercial operators and organisations, designed to help you manage and customise your company EFB program.

The Dashboard can be accessed at https://ozrunways.com/dashboard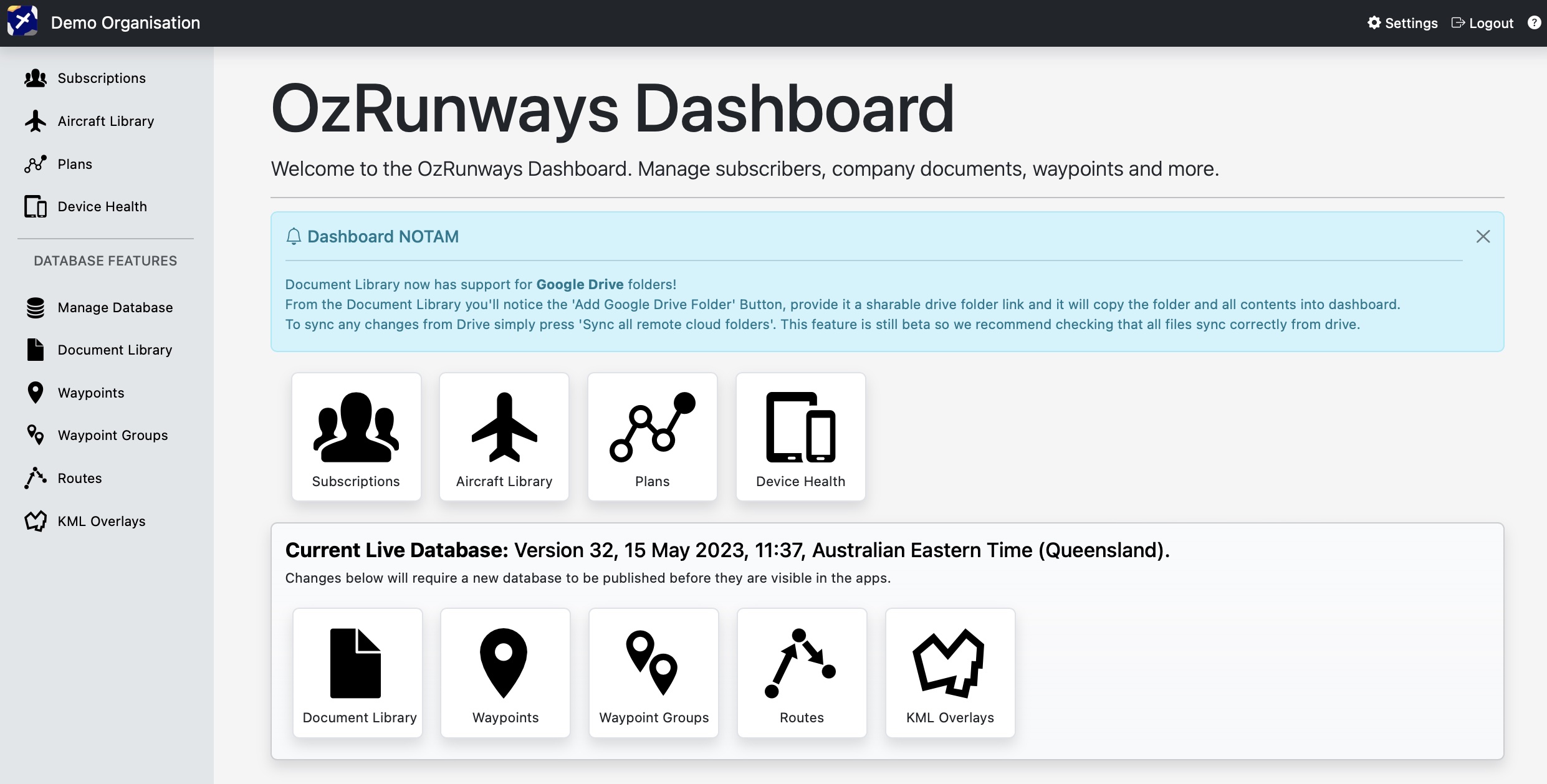 1.1.

Dashboard Functions¶

There are a number of functions available in the Dashboard as described below.

The Subscriptions page provides the following functions:
Edit User IDs, email, pilot name etc.

View company subscription details such as device models, login history & software versions

Lock subscriptions to specific devices, preventing accidental sign out in flight

Assign Dashboard access & permissions
The Document Library allows you to upload custom documents and attach them to waypoints if desired.
Create Waypoint Groups which can then be switched on/off using the Overlay Bar in OzRunways, just like other waypoint types.
The Routes module is used to create custom routes between waypoints. These routes are then available for quick planning in-app.
The Aircraft Library is used to distribute aircraft profiles. Aircraft profiles can be locked for limited editing as required for Weight & Balance approval.
Allows you to open plan templates across all company devices and includes an integration with Champagne Flight Planner 3000. Send complete Champagne plans to a specific device, including LSALTs, fuel and alternates. Fast and secure without the possibility of missed or mixed up files if you are emailing files back and forth.
Upload KML Overlays which can then be accessed across company devices. Perfect for displaying overlays such as search patterns, training & avoid areas, company routes, and much more.
1.2.

Database¶

Some functions in the Dashboard require a Company Database to be published before the content becomes available in-app. The Company Database is downloaded automatically when the app is opened.

The functions that rely on a company database are:
NAIPS Credentials

Document Library

Waypoint Catalogue

Routes

KML Overlays
The database system is covered in detail in Manage Database.